KORONA.pos Cloud and Back Office
Just what the doctor ordered.
Personalized Dashboard

Product Management

Customized Layouts

Real-Time Statistics

On-Screen Help
KORONA.pos Cloud acts as the central configuration and data storage that communicates with all client systems (KORONA.pos Terminals). KORONA.pos Cloud stores all transaction data, which is transferred from the Terminals. All master data and configuration settings are saved in the Cloud as well, meaning all the information needed on the Terminals for daily business. The KORONA.pos Cloud is accessible exclusively via an Internet browser, so no complex software installations or server set up and maintenance are required.
Master Data – Once entered, immediately on the Terminal
All master data, i.e. articles, commodity groups, customer groups, prices, promotions and cashiers are created and maintained in the KORONA.pos Cloud back office. For every article, a variety of characteristics, such as commodity group, price lists, several tax rates and one or more sectors can be allocated. With the automatic or manual syncing options, the master data is always available on the POS Terminals when you need it.
---
Web-based Interface
Portable access from anywhere
Keep tabs on business from anywhere you have a browser and an internet connection. In the office, on the road or at home. The KORONA.pos Cloud back office has a modern, clear and self-explanatory user interface and can be accessed through a web browser. Thus, your operating system is irrelevant and there are no additional installations required.
Branch Management
Centralized and effective
Effectively manage the operational affairs of your various branches, no matter where they are located. Manage the back office of all shops, configure the layout of the terminals and assign your staff various roles and permissions. All from one, centralized location.
---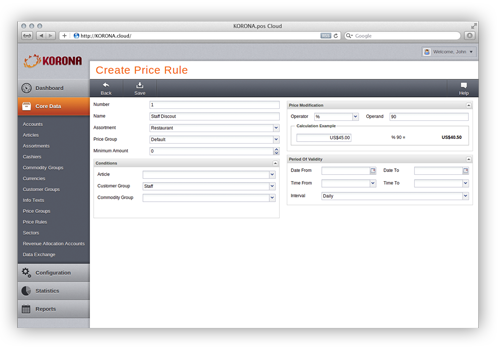 Price Rules and Promotions – Adaptable and efficient
Pricing rules and promotions are essential tools for achieving customer loyalty. Whether fixed price variations or promotions such as "Mix and Match" or "Buy 3 – get 1 free", KORONA.pos immediately checks if an article is part of several campaigns and then applies the greatest discount. Consequently, no promotion escapes the cashier and the customer is always given the best price.
---
Reports and Statistics – Get the latest reports for quick decisions
All of the data and information registered on the terminals throughout the day get automatically transmitted to the KORONA.pos Cloud back office. This can be done either manually or at fixed time intervals. If there is a break in the internet connection, the data is stored on the Terminal and synced at the next possibility. Get the daily sales of different products or stores, or show a POS terminal over various periods for each register or for each cashier. There are many meaningful and easily understood statistical graphics and reports which can be used as the basis for smarter business decisions.
---
Dashboard
The picture of health
The dashboard offers a quick and simple view into the data associated with your business. It is designed to offer you transparency, control and quick access to frequently used settings. Get a snapshot overview of the health of your business, see historical trends of your key performance indicators (KPIs) and make informed decisions at a glance. Personalize your dashboard by adding, deleting and rearranging widgets.
Configuration
Total System Overview
All of the major system configuration is maintained through the KORONA.pos Cloud back office. That means all locations and the integrated POS peripherals can be managed in one place with the ability to create as many different configurations as are necessary to meet varying requirements on the front line.
---
Roles and Distribution of Rights – Safety first
In the configuration through the KORONA.pos Cloud, it is possible to distribute permissions to clearly establish roles and rights as far as which areas may be accessed and which functions can be used. Everyone only sees what is needed to work effectively, ensuring maximum security and integrity of the POS system and its data.
---
Performance
Faster and more powerful
Whether you are a small business or a large enterprise, your KORONA.pos Cloud system will operate more efficiently because it will use the power of multiple servers instead of one at the time.
Data Security and Integrity
It's safer in the Cloud
With the KORONA.pos Cloud back office, expensive and complex server installations are a thing of the past. Now your data is stored and maintained using the best practices by pros who are dedicated to storing and securing data.
Expand
Grows right along with you
Why should your point of sale system be a barrier to your growth? The answer is that it shouldn't! When you're ready to expand your business, simply add more terminals instead of worrying about additional servers and configurations. Don't let your system hold you back from reaching your goals.
Data Exchange
Connect to other systems with ease
Customized interfaces in the KORONA.pos Cloud allow you to easily communicate with 3rd party systems, such as QuickBooks, Excel and more.