Building lasting customer loyalty is crucial for any retailer's long-term success. With consumers having endless options of where to shop, retaining existing customers and cultivating loyalty becomes a priority.
In this blog post, we will explore proven strategies and techniques retailers can implement to improve customer loyalty and drive repeat business. From providing exceptional service to offering loyalty programs, we will also cover key areas where retailers can focus their efforts to foster meaningful connections with their customers and turn them into brand advocates.
Exceptional Customer Service
One of the best strategies for improving customer loyalty is to provide exceptional customer service consistently. There are several ways retail stores can accomplish this:
Listen actively: Hire friendly, enthusiastic employees who enjoy interacting with customers. Store associates should greet every customer, make eye contact, smile, and offer assistance. Train your staff to listen to customers actively. This means paying full attention to their needs and concerns. Encourage employees to ask open-ended questions to understand better what customers are looking for.
Product knowledge: Employees should have an in-depth knowledge of the products they sell. This allows them to answer customer questions, offer recommendations, and provide valuable insights.
Efficient problem resolution: Train your team in problem-solving. When issues arise, resolve them quickly and efficiently. If a resolution isn't possible on the spot, communicate a clear timeline for a solution.
Consistency: Exceptional service should be a consistent experience for all customers. Set and maintain high service standards and ensure that every employee follows them. Provide sincere thank yous and show appreciation for customer business. Simple gestures like complimentary gift wrapping or free samples make a positive impression.
See related: The Dos and Donts of Retail Employee Training
Different Types of Loyalty Programs
Loyalty programs are one of the most effective strategies for retail stores to increase customer loyalty and repeat business. The main goal of any loyalty program is to incentivize customers to shop more frequently and spend more money at your store. There are several types of loyalty programs that stores can implement:
Points-based programs: One of the most common types, this rewards customers with points for every dollar spent. Points can then be redeemed for future discounts or free products. The more points members earn, the higher their reward status becomes. Stores may offer tiered rewards for different loyalty levels.
Tiered programs: In tiered programs, customers progress through different loyalty levels (e.g., Silver, Gold, Platinum) based on their spending. Each tier offers increasingly attractive rewards, incentivizing customers to reach higher levels and maintain loyalty.
Cashback programs: Cashback loyalty programs offer customers a percentage of their purchase price back as a reward. This creates a sense of immediate gratification and encourages repeat visits.
Punch card programs: Simple yet effective, punch card programs provide customers with a physical or digital card that is stamped or punched with each purchase. After a specific number of purchases, customers receive a free product or a discount.
Subscription programs: Some retail stores offer subscription-based loyalty programs, where customers pay a regular fee for exclusive benefits, like free shipping, early access to sales, or exclusive content.
Implementing a Successful Loyalty Program
Here are some tips for implementing a successful loyalty program:
Make sign-up easy and automatic at checkout. The fewer barriers, the more members you'll get.
Ensure your loyalty program integrates seamlessly with your retail point of sale system and online store. Customers should be able to earn and redeem rewards with ease.
Offer an immediate signup bonus or discount so new members immediately see rewards.
Start members at an entry-level tier with basic rewards. Higher tiers with better rewards will motivate them to spend more.
Feature the program prominently in your store and on your website. You want maximum visibility.
Send regular emails reminding members to use their points and promoting special deals. Keep the program top of mind.
Offer personalized rewards and tiers based on each customer's purchase history. VIP treatment increases loyalty.
Analyze member purchase data to improve the program and offer rewards they truly value.
Make checking point balances and redemption status easy online or via mobile app.
Actively market your loyalty program both in-store and online. Use various channels like email, social media, and in-store signage to spread the word and encourage sign-ups.
You might want to read: Types of Loyalty Programs: A Quick Guide For Retail Business Owners
Build Your Online Presence
Online presence is becoming increasingly important for brick-and-mortar retail stores to build customer loyalty. With more consumers turning to the internet to research products and make purchases, not having any online visibility can result in lost opportunities and declining foot traffic. There are several ways retail store owners can establish an online presence and connect with customers:
Create a website for your store – A website allows customers to learn about your business, view your products/services, read reviews, find contact information, store hours, and more. This makes your business discoverable online and gives it credibility. Offering eCommerce capabilities will further drive sales.
Sell on online marketplaces – Platforms like Amazon, eBay, and Etsy enable retailers to list products and sell to a massive base of online shoppers. This expands your reach beyond just your website. You can sync inventory across channels to leverage online marketplaces without undermining your own website.
Build an email list – Collecting customer emails through your website and promotions allows you to nurture leads and send updates on new products, sales, events, and more. Email marketing helps maintain mindshare between visits.
Engage on social media – Platforms like Pinterest, Instagram, and TikTok allow retailers to provide behind-the-scenes content, interact with customers, promote products, and drive traffic back to your website. Adding social buttons and profiles on your website makes it simple for visitors to connect.
Focus on SEO – Optimizing your website and content for search engines like Google helps your business rank higher in results for relevant local queries. This technique draws new visitors from search to your online properties.
Post online reviews – Actively encouraging satisfied customers to leave positive reviews on Google, Facebook, Yelp, and other sites can boost your visibility and credibility for new shoppers reading reviews. Be sure to monitor and respond appropriately to feedback.
Offer mobile integration – With growing mobile usage, ensure your website is optimized for mobile devices. You can also create mobile apps to facilitate easy browsing, purchases, engagement, and sharing for customers on-the-go.
Regular Discounts And Promotions
Offering regular discounts and promotions is an effective strategy for retail stores to build customer loyalty and encourage repeat business. When done right, sales promotions give customers a reason to choose your store over competitors. There are several types of discounts and deals that stores can leverage:
Loyalty programs – Offer special pricing, exclusive products, or freebies to customers who sign up for your loyalty rewards program. This gives people an incentive to keep coming back to earn points or level up status. Popular programs include punch cards, member pricing, birthday gifts, and tiered benefits based on spending levels.
Couponing – Coupons let customers feel like they're getting a deal. Have weekly or monthly promotions where coupons are released for % off or $ off certain items. Make coupons easy to access – email subscribers, social media, flyers, in-store displays.
Bundle pricing – Offer discounts when multiple items are purchased together. This encourages larger basket sizes. Examples are buy 2, get 1 free, or buy an outfit and get 20% off shoes.
Flash sales – Run limited-time discounts on certain products to create urgency. Announce 24-48 hour deals on social media or in-store signage. Popular for getting rid of excess inventory.
Seasonal sales – Certain seasons like back-to-school, holidays, or changes of weather call for promotional sales. Time discounts around major shopping events when customers expect deals.
Student and senior pricing – Offer consistent discounts for students and seniors to build community goodwill. Require valid ID showing status.
Email subscriber promos – Give special offers only to loyalty email subscribers to encourage sign-ups. Examples are 20% off coupons or advance notice of sales.
Progressively increase rewards – Offer bigger discounts for high-tier loyalty members. Occasionally, surprise upgrades and free products/services make loyal customers feel valued.
Ease of Returns And Exchanges
One of the best strategies to improve customer loyalty is to make returns and exchanges as easy and seamless as possible. When customers know they can easily return or exchange an item if needed, they are more likely to shop confidently and become repeat customers.
There are several tips stores can follow to create an easy return and exchange process to improve customer loyalty:
Offer a generous return window. Allow customers at least 30 days to return items, with extended return periods for major purchases like furniture or electronics. This gives customers plenty of time to decide if they are fully satisfied with their purchase.
Accept returns with or without a receipt. Don't require a receipt for returns, as many customers misplace them. As long as you can verify the item was purchased at your store, accept the return.
Avoid restocking fees. Restocking fees frustrate customers and make them less likely to return. Focus instead on encouraging exchanges over returns.
Offer a streamlined online return process. Allow online purchases to be returned by mail or at local stores. Provide pre-paid shipping labels and boxed return kits to make returns simple.
Train staff to handle returns promptly and pleasantly. Make sure staff quickly approves valid returns and exchanges without hassling customers.
Provide an exchange-only policy on sale items. Don't offer refunds on sale items, only allow exchanges for a similar sale item. This prevents return fraud on discounted items.
Track return data to spot problem products. Analyze what gets returned most often and why. Then take steps to improve product quality or description accuracy to reduce returns.
See also: Return Policy Template For a Retail Business
Implement a Referrals Program
A referral program incentivizes existing, satisfied customers to recommend the store to family and friends. This helps organically attract new customers and rewards loyal customers for their advocacy. There are several tips to keep in mind when implementing a referrals program in a retail store to improve customer loyalty:
Make enrollment easy – Allow customers to opt into the referrals program easily, such as at checkout or on your website. Reduce barriers to get more sign-ups.
Offer an enticing reward – The referral reward should be compelling enough to motivate customers to make referrals. Consider rewards like discounts, free products, or gift cards.
Promote the program – Let customers know about the referrals program through in-store signs, website banners, email campaigns, and social media. Remind customers periodically.
Track referrals – Have a system to track who made a referral and who the new referred customer is. This lets you reward referrers properly.
Follow up with referred customers – Contact referred customers to welcome them and encourage future purchases. This helps build loyalty.
Thank referrers – Show appreciation to customers who make referrals through thank you emails or small gift surprises. This motivates further referrals.
Analyze results – Track metrics like number of referrals, new customers from referrals, and referral program ROI. Refine the program as needed.
Invest in Retail Employee Training
One of the primary ways that employee training can improve customer loyalty is by enhancing the knowledge and expertise of retail staff. Customers value interacting with knowledgeable employees who can answer their questions, offer recommendations, and provide insights about products. When employees are well-informed about the products they sell, customers are more likely to trust their advice, leading to increased sales and improved customer loyalty.
Superior customer service is at the heart of customer loyalty. Retail employee training should focus on teaching effective communication skills, empathy, and problem-solving abilities. Employees who are well-trained in customer service can ensure that shoppers have a positive experience, making them more likely to return to the store and recommend it to others.
In addition, training retail staff on your brand image will ensure they represent your business properly. Employees are essentially brand ambassadors who can boost your reputation through positive word-of-mouth. Customers are more likely to trust and remain loyal to retailers whose employees reflect the brand well.
Here are 5 tips for effective retail employee training:
Start with the basics. Go over company policies, procedures, the layout of the store, how to use the cash register and point of sale system, etc. Make sure new employees have a solid understanding of the fundamentals.
Shadow experienced employees. Have new staff shadow veteran team members to learn first-hand how to assist customers, handle transactions, stock shelves, and perform other duties.
Practice customer service skills. Role play common retail scenarios like greeting customers, product recommendations, addressing complaints, etc. This allows employees to build confidence and skills.
Cross-train employees. Don't just train for one role. Expose employees to different departments and responsibilities so they become versatile and understand how the entire store functions.
Conduct ongoing training. Schedule regular refreshers on policies, new products, sales techniques, etc. Continued training prevents knowledge from fading and keeps employees up-to-date.
Improve Customer Loyalty With Combase USA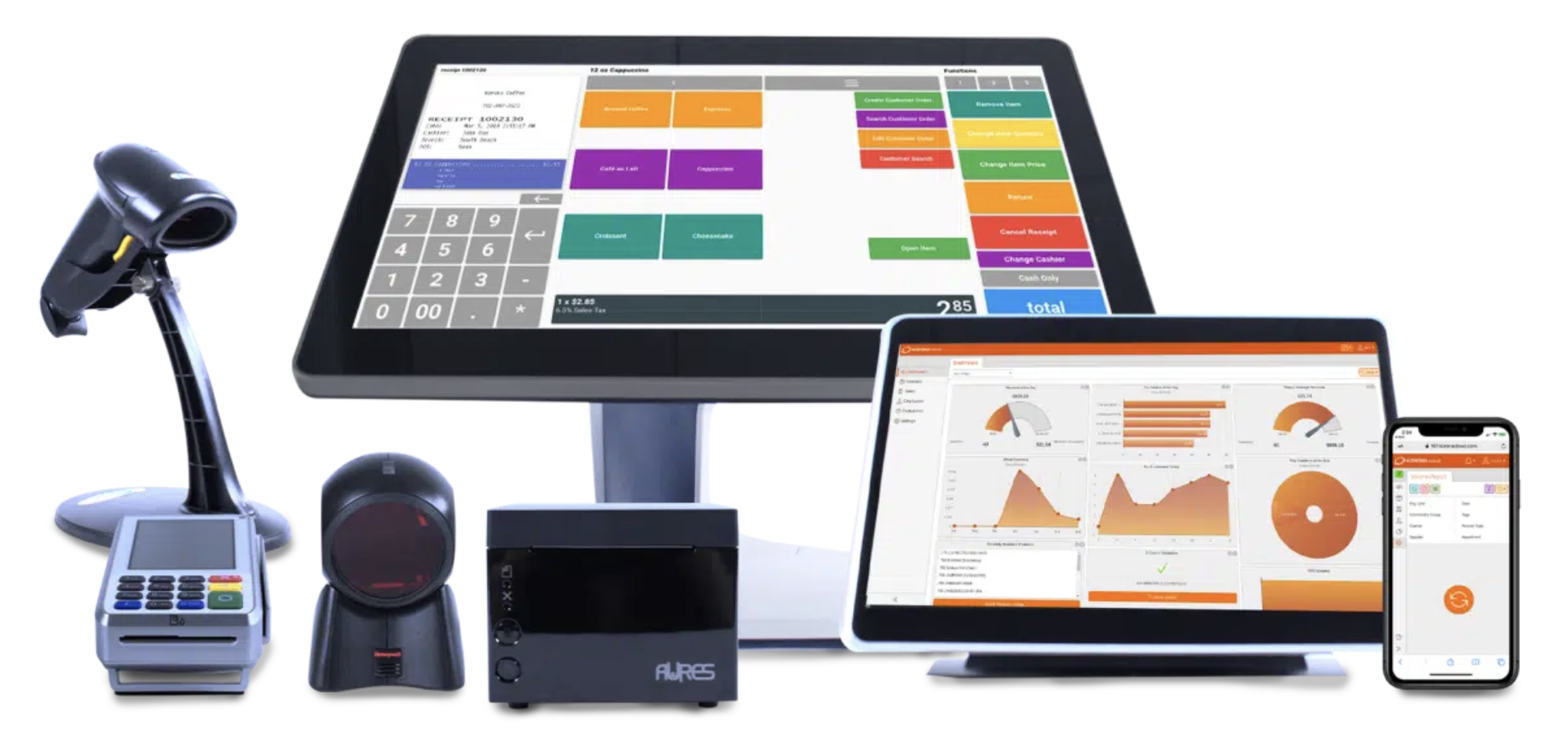 A POS system plays a crucial role in enhancing customer loyalty within a retail store. By streamlining the checkout process, providing convenient payment options, and enabling efficient inventory management, a POS system can create a more pleasant and efficient shopping experience for customers.
This, in turn, can lead to increased customer satisfaction and loyalty. Moreover, a robust POS system can gather valuable customer data, allowing retailers to personalize promotions, offer loyalty rewards, and send targeted marketing campaigns.
KORONA POS, a POS product developed by COMBASE USA, is an excellent choice for retail stores aiming to enhance customer loyalty. Its user-friendly interface ensures fast and efficient checkouts, reducing customer wait times and frustration. KORONA also offers powerful inventory management features, ensuring that products are consistently available, further improving the customer experience.
With its robust reporting and analytics capabilities, KORONA helps retailers gain insights into customer behavior, enabling them to implement data-driven loyalty programs and deliver personalized customer experiences. Ultimately, KORONA POS can play a pivotal role in creating a loyal customer base by making shopping more convenient and tailored to individual preferences.
How Can Retailers Improve Customer Loyalty
The retailers that thrive are the ones who successfully build loyalty with their target audience. While acquiring new customers is important, retaining existing ones and nurturing them into loyal brand champions is critical for sustaining revenue and growth.
By focusing on consistently delivering top-notch customer experiences, implementing data-driven loyalty programs, and providing tailored incentives that resonate with your customers, you can establish the meaningful connections that lead to lasting loyalty.
With the strategies outlined in this blog, retailers have a roadmap to follow to turn casual shoppers into lifelong brand devotees who drive referrals, become repeat purchasers, and promote the business to others. You can also invest in customer loyalty through a better POS system, and you'll reap the rewards for years to come. Learn more about KORONA POS by clicking here.