In-store promotions are an important aspect to your business. It is a way for you to gain new customers, to keep your current customers, and to give the customer a great shopping experience. There are 3 different ways that you, as retailers, need to identify with your customers- new customers, existing customers, and the customer experience. There are promotions that are attractive to each phase of the customers coming into your store. Here are a few different concepts and ideas with different kinds of promotions:
Bring New Customers to Your Store:
Buy one, get one free! Mix and match items! – This gives freedom for customers to choose what they want to buy instead of having to buy a certain product. 
Give a 10% off discount for anyone who "likes" the Facebook page and checks into the store! – This is a good way to promote because it's exposing your business to that person's friends on his/her Facebook. It allows your name to get in front of hundreds of people for free, every time someone checks in.
 "24 hour sale!"- Create urgency for customers to feel the need to come in and get their supplies since this sale will only last for 24 hours.
"21% any purchase on the September 21st."- Try to make your promotions appealing and different! Pick an odd number to take off of a sale if a customer comes in to buy products.
For instructions on how to do set up this type of promotion in Korona, please refer to the screenshot below.
 Get Customers to Return: 
10% off your next purchase (printed on receipt).- feel free to use a higher percentage off. Not all customers take advantage of this offer so you can afford to give a higher percentage off of their next purchase.
$5 off your next purchase.  Instead of giving a discount right away you can transfer the discount amount onto the next purchase by adding a coupon to the receipt.  This will bring customers back sooner.
Get 1 item at 50% off! – It seems to be pretty successful and gets a customer in your store. People won't normally want to come to a store for just 1 product. This promotion gives them incentive to get what they need because they have a coupon for 50%.
Birthday/Holiday coupons- Sending out coupons via mailer or email is a great way to have your customers return and it makes them feel special, too!
Use a punch card that gets used every time they purchase something at your store. Once they get to 10 purchases they can get 10% or $10 off that purchase.
Generate coupons based on purchases to make them appealing to the customer and his purchasing behavior.
Give coupons expiration dates to have customers come back sooner and get more foreseeable coupon spending
For instructions on how to do set up this type of promotion in Korona, please refer to the screenshot below.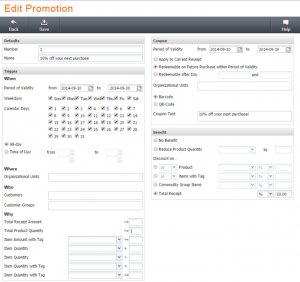 Deliver a Shopping Experience and Increase Sales per Customer:
Making the customer's shopping experience a good one is just as important if not more important than the actual promotion. Giving your customer's a great shopping experience will bring them back to your store again and again!
Add the percentage or amount of money that the customer saved in their transaction. Customer who save money on their purchase feel better about their shopping experience and will leave your store a satisfied customers.
$15 off on $50 purchase or more! – Make a promotion attractive by giving a good amount off of a specific purchase.  This will encourage customers to continue shopping in order to get this promotion.
 For instructions on how to do set up this type of promotion in Korona, please refer to the screenshot below.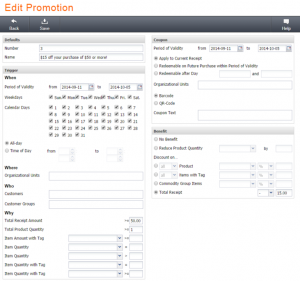 These are just a few ideas, but be creative! Make the promotion attractive and inviting. Make it unique for your area. These deals should create desire for the customer to come back.
If you want to have successful promotions, you need inform people of your promotions! You want to advertise your promotions to as many people and on as many platforms as possible.  Here are a few different platforms that you can advertise your promotions:
– Social media
– Printed ads
– In-store advertisement
– Advertisement on receipts
– E-mail campaigns
 
Get the word out in as many ways as possible so that you can have a successful promotion!